Swedish Church Records
Banns and wedding books.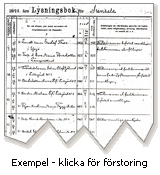 (Sign: E)


Banns

Banns were statutory and therefore compulsory at marrige in Sweden to year 1973. Three Sundays after the date the priest had to (during the church service) give notice about that two persons from the parisch should enter into marriage. These dates were also entered in the "Bann book"

If someone contradict this marrige they should speak out during these notice and also be motived, why.

These books are presented yearly and per parish.

Banns- and wedding books will give you following information:


- the date for banns (three different dates)
- bridal couples names, profession and where they lived
- bridal couples date of birth
- notices from both consent of marrige
- wedding date
- name of the priest
- other notes




The law about banns
"... The priest must announce the bann three Sundays in church, that the couple are about to marry. If someone had something to say about this marriage, then they should speak out during this time. If this was done, the priest was not allowed to marry the couple until the item was checked. If no one said anything the priest could marry the couple.





Note ! These books can look different depending on in which parish you are searching in. Most of the books contains same information but can be written in a different way. This you will notice more and more when you search way back in time.