About us

At last our dream have come through. Our website are made for you all who is interesting in genealogy or will start with genealogy.

We hope to wake your interest for genealogy and maybe it will do that you take care of the history about your great grandfather who left for the US. What happend with his relativies and who know, maybe you will travel to the US one day. (for you in the US , maybe you will travel to Sweden)

Ellisisland.se

Ellisisland.se concentration is genealogy were we present interesting information about the immigration station Elllis Island, genealogy and emigration. We also have a website for you who may be interested in a visit to New York - you will find it here: www.ilovenewyork.se. New York is one of the cities that we have visited on several occasions. The city offers a lot, both for those who are interested in history and travel seeking.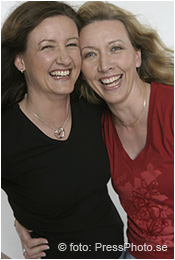 Who are we?

We are two sisters living in Goteborg, Sweden and we have always been interested in genealogy and history. Our interest started in school in the mid 80´s, then genealogy was a subject field in school. Our interest was woken by a teacher who told histories after histories about exciting events that you can get and then we wanted to know about our relativies.

The year have passed and our interest have continued and gradually we have done research in different sides of our family and still we are far away from done! Genealogy have given us a lot of history about our ancestors and in the same time it have made that we have tied new contacts in our family. We have found old letters from "America" with sender addresses that we searched for on the internet - White Pages. (White Pages in the US - telephone directory). We gave it a shot and sent a letter to the same address and beliew that we got surprised that they were still alive and answered back to us. They became very happy, as we also did and this resulted in many letters back and forth and last summer (2005) we travelled the whole way to Montana and visited our relativies. It was a marvelous experience.

Annika is a member of Marks Härads genealogy society.
Helen is a subscriber of Swedish American Genealogist.
| | |
| --- | --- |
| | |

Crofters and soldiers

Our family is not of any noble birth (not yet any way), we come from peasants, crofters, soldiers and ramblers etc. But some are saying that our great grandmother worked at our kings castle in Stockholm.. and she never told who the fader of her child was... maybe some blue blood, this we will have to do more research about.

Please write to us!



Ellisisland.se is far away from done. We will add information when we have the time. We gladly answer any questions you have, things you want to see at our page, travel tip etc. We can in the same time tell you that we are not able to answer you directly on your questions but will answer you as quickly as possible. Ellisisland.se is a project beside our ordinary work.

Please contact us at e-mail: info@ilovenewyork.se


Have fun at our website!
Helen and Annika