Emigration - searchable databases
We present some of the databases you find on the Internet.
Amerika - Search for Swedish immigrants: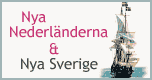 New Netherland / New Sweden (1600)
To find names of passengers on the ships heading for New Netherland and New Sweden is not easy. But here you find a link to a website with several of the ships that went from Goteborg during the 1600s and even names of passengers.

Free - not searchable but very interesting website just to look and read through even if you don´t have any relative that you know ended up in New Sweden.

More information:
Information about New Netherland »
List of several ships that went to New Sweden »

Castlegarden.org (1830-1892)
Look for immigrants that went to New York between the years 1830 - 1892. Arriving passengers during this period had to go through the immigration station Castle Garden (today Castle Clinton National Monument) in Battery Park. You search by name in the database containing approx. 10 million immigrants.

Free!

More information: www.castlegarden.org

Titanic (14 april 1912)
The fateful night on April 14, 1912 when Titanic went down on her maiden voyage there were 134 Swedish passengers on board and only 34 survived. Most of them were por emigrants travelling in 3d class. To travel in 3d class ment difficulties to get to the life boats.

Here you find a couple of websites with passengers lists from Titanic..

More information:
Swedish passangers onboard Titanic
Completer list of passengers on the RMS Titanic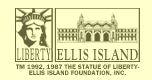 Ellisisland.org (1892-1924)
This is the best online-database of emigrants coming to New York and the immigrations station on Ellis Island between the years 1892-1924. You search by name in a database containing more than 22 million immigrants.

Free - You can also buy other services on line. You have to register for an account to be able to read the detailed ships records - this is also free.

More information: www.ellisisland.org

More information about Ellis Island and its history you´ll find here »
Ancestry.com
A fantastic database where you search for your relativies in archives in the US. If you know that someone in your family have emigrated to the US, you can here search on a name and you will get an answer in which archives this name is present. It can for example be the Census of year 1900, 1910, 1920 or 1930, it can also be ship records of immigrants from the harbour in New York, Boston and Philiadelphia, it can be soldiers in the first World War and deceased (Social Security Death Index) etc.

The records contains more than 3.5 millards names.

You can choose from month- or yearly subscription. You can also try the service for two weeks, free of charge. (Note! If you do not want to continue after two weeks, don´t forget to end your subscription.)

Start free Trial at Ancestry.com »


1940s US Census
An amazing help in your search for Swedes who emigrated to the United States. All residents were counted and written up with names in census at different years' intervals. Here you can find very interesting information and also relatives you lost.
Sweden - Search for Swedish emigrants:

Bullaren Emigranterna (1853-1951)
Here you find Swedish emigrants from the little area of Bullaren in Bohuslän on the Swedish westcoast. Most of them went to America but some also went all the way to New Zealand. You will find a page with all the namnes sorted by surename at the link - "Emigrants/List over". You also find very interesting information about emigration and family stories.

Free!

More information: http://www.bullaren-emigranterna.se
Norway - Search for emigrants:

digitalarkivet.uib.no (1800-1900s)
Search for emigrants that went from Norway during the 1800-1900s. Some Swedes went through Norway to get abroad. You find emigrant registers, ships lists and pass register and more. You can also find Swedish emigrants here. The below link will take you to Digitalarkivet.

Free!

More information: www.digitalarkivet.uib.no

Norwayheritage.com (1825-1873)
Search for emigrants who travelled fron Norway between the years 1825 - 1873. It is mostly Norweigan emigrants but you can also find Swedish ones. Take a look if you haven´t found your relative. The database contains about 62.000 emigrants.

Free!

More information: www.norwayheritage.com/pasquest.asp
Denmark - Search for emigrants:

Emiarch.dk (1869-1908)
The Danish Emigration Archives - Here you search for emigrants that went from Denmark between the years 1869 - 1908. Here you also can find Swedish emigrants that took the way through Denmark before continuing to America. You search by names among approx. 394.000 emigrants.

Free!

Mer information: www.emiarch.dk
Finland - Search for emigrants:
migrationinstitute.fi
Institute of Migration - Here you search for emigrants that went from Finland. Also here you can find Swedish emigrants. You search for emigrants that travelled through Hangö with the Finnish Steamship company. It contains approx. 318.000 emigrants. The database is for the years 1892-1896, 1899-1914 and 1920-1939, 1940-1960.

Free for limited search. You can pay to expand your search!

More information: www.migrationinstitute.fi
Canada - Search for immigrants:

National Archives of Canada (1925-1935)
Hear you search for immigrants that went to Canada. The database contains persons that entered through different ports in Canada between 1925 - 1935. Here you also find Swedish names.

Free!

More information: www.collectionscanada.ca
Australia - Search for immigrants:

Immigration to Victoria
You can search the list for names of passengers who boarded ships to Victoria (Australia) from overseas ports (including New Zealand) between 1852 and 1923. I searched for the lastname - johanson - and found several passengers.

Free!

More information:
Public Record Office Victoria - Passenger lists