New Sweden (1638-1655)

Our Swedish emigration stretch back to 1600. Then we have our different colonies over the world. Our first and only colony in the US was "New Sweden".

The Swedish colony was situated at both sides of the River and bay of Delaware on the east cost of the US, it also included areas that today are Delaware, New Jersey and Pennsylvania.



1626 - privileges for the South company

Year 1626 King Gustaf II Adolf issues privileges for a Swedish company, (called South company or the new Swedish company) who should be the only part in Sweden to own the rights to foreign trading and colonise in the rest of the world. But due to economic and political circumstances this big mission was prevented.

1635 Sweden lost important incomes from customs in Preussen and the General Axel Oxenstierna had to seek for new markets to compensate this. He hoped to get money by trading and colonisation of America. He contacted the Dutch Peter Minuit, who since some time ago already was the leader of the Dutch colony "New Amsterdam" at the Hudson river (present New York). Minuit offered to help the first Swedish-Dutch America Expedition. This lead to the foundation of the colony "New Sweden".


1638 - New Sweden is founded

In Spring of year 1637 a proposal was given to build a colony at the River Delaware on the eastcoast of the US. The first expedition consisted of two ships "Kalmare Nyckel" and "Fågel Grip" with the Swedish lieutenant Måns Nilsson Klin, 20 soldiers and also Dutch crew and merchandise from the Netherlands.

The ships left Goteborg harbour in the fall of 1637 and anchored at the Delaware river in March 1638. They started negotiations with the Indian tribe Lenape and ended the first land buy in March 29 1638. The land contained the area on the right (west) riverbank from the Delaware river mouth (todays Bombay Hook) to the river Schuylkill (south of Philadelphia).





Photo: the Kalmar Nyckel Foundation / kalmarnyckel.org


One small fortress "Fort Kristina" was build for protection against the Dutch colony, who later on claimed the whole area. The Fort was named after the Swedish former Queen.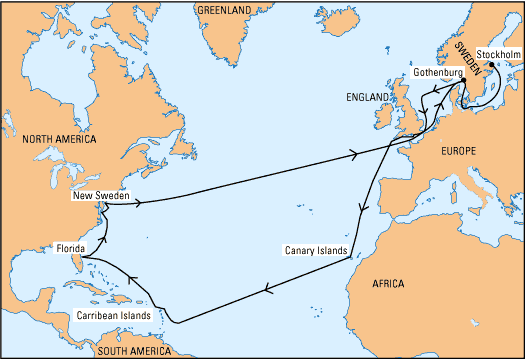 Picture/Source: Travel route from Sweden to New Sweden - www.colonialswedes.org



The Swedish colonists cooperated a lot with the Indians and during the whole time they had extremely peaceful relations and also an hectic exchange with goods.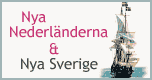 New Netherlands / New Sweden (1600)
It is hard to find any persons who joined the ships from Sweden going to New Netherlands and New Sweden. But here is a link to information about several ships that left Gothenburg during 1600s containing names of passengers and crew.

Free - it is not searchable but a very interesting link even if you don´t know if you have any realtives that took part in the colonisation.

More information:
Links to information about New Netherlands »
Links to ships leaving Goteborg for New Sweden »
Source: The Swedish History - Bonniers Lexikon