To arrive at Ellis Island

What happend when you arrived to New York as an emigrant? What could they expect ?

The inspectors came on board


| | | |
| --- | --- | --- |
| | | Before the big ship arrived to New York harbour, the inspectors came on board. This happened in the area of "quarantine" at the entrance to Lower Bay. All passangers on board didn´t have to enter to Ellis Island, those who travelled in first- and second class, were inspected on board. The inspectors checked for any contagious diseases such as cholera, plague, typhoid, measles and diphtheria etc. If any one had this disease they were sent further on to Ellis Island. But this happened very seldom. |

The theory was:
If a person could afford to travel in first or second class the change to become a burden for America in health care or in criminality was not so big.

Passangers with American citizenship were never checked.

The Statue of Liberty in sight !


After the control on board, the ship continued north to Upper New York Bay and towards the harbour. Slowly the Manhattan skyline could be seen, but the first thing the emigrants sighted was the Statue of Liberty. This must have been an amazing view after a very long journey over the Atlantic See.


An 80 year old German emigrant says::

"I thought she was one of the seven wonders of the world"

When first and second class passengers disembarked in the harbour of New York, third class were sent further to Ellis Island for inspection. Third class passengers were moved to a ferry who took the emigrants to the island. When there were many emigrants, people had to wait on board the ship before they were sent to Ellis Island. When a ship arrived after 5 PM all passangers had to wait until the morning to take the ferry to Ellis Island.
The emigrants had name tags with the individual´s manifest number sticked on their cloths. Every ferry could take 30 passengers at the time together with all the luggage they brought with them.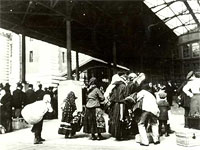 At Ellis Island


When they arrived they met a lot of other emigrants from different places in the world. A lot of languages were spoken. Some interpretators took care of them and showed them in to the big entrance hall.


Now followed the medical examination »













Source/Pictures: The Statue of Liberty-Ellis Island Foundation