Interrogation

After the check-up by the doctor the immigrant went on to the long queue were they must wait for the interrogation. In the Registry Room there could be waiting approx 5.000 people at the same time.

In the front sat the inspectors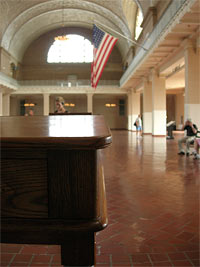 After waiting in queue, the immigrant went forward one an one to the inspector who sat far front in the Registry Room on a high chair behind his desk. Beside himself he had an interpreter and in front he had the shiplists.

The check-up should be regarding the information that the immigrant have left of himself and that also was written in the shiprecords. Here they double checked the name, age, religion, last residence, sex, civil status and if the immigrant should met up with some relative etc.

2 minutes with every immigrant

Every inspector had approx 2 minutes per immigrant to determine that the information were correct and that the person could take care of himself and fulfil the demands to be able to stay in the US. They should also determine if the person was a danger to the society. Due to that the time was so short to do this check-up, it could happen that the spelling of their name could be wrong (this is not often common though), sometimes even the homecountry were wrong.

If their were any hesitations the immigrant had to stay at Ellis Island for further investigation.


| | |
| --- | --- |
| | |


Approved

Most immigrants passed the interrogation and got their "landing card" (the permit to leave and enter New York). Only 2% of all the immigrants who went to America had to return to their homecountry after the check-up at Ellis Island.

After approval they only had a few hours left on Ellis Island, before they could leave the island and continue their travel.

To leave Ellis Island »



Source/Pictures: The Statue of Liberty-Ellis Island Foundation