To leave Ellis Island

After approval it was time to leave the island and continue to the final destination.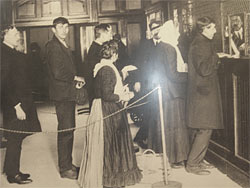 Change money
Those who had received their permission to enter to the US continued to the Money Exchange at the island. Here you could change gold, silver and foreign currency to american dollars. Here money from all countries were exhanged to american dollars. The day´s official rates applied and those were written on a black board.

Tickets

For those who should travel further to cities outside New York needed to have train tickets. The tickets were bought at the island. At the island there were dozen of agencys from different railway offices that sold tickets. Sometimes 25 tickets were sold in a minute when the moste people were gathered.

The immigrant waited on the island at the spot for the specific railway agency (a marked area) who then took them on the ferry to the railway station.


| | |
| --- | --- |
| | |


There were several railway stations depending on destination. Railway stations could be found in Jersey City and Hoboken. Immigrants that should travel further to New England took the ferry to Manhattan.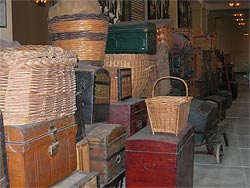 The luggage - not to forget!

When everything was okey for departure from Ellis Island, their luggage were given back to them. In the luggage the immigrant had everything from their homecountry, everything the loved and treasured.

The time at Ellis Island is over
With landing card, american money, train ticket, luggage and lunchbox, the immigrant were ready to leave Ellis Island and ready to deal with new destinations. For most people the trip had started several months or years earlier and still they had a long way to travel within the US, maybe to Chicago, Minnesota, Montana or the whole way to California.


Welcome to America!


Source/Pictures: The Statue of Liberty-Ellis Island Foundation