To visit Ellis Island
To visit Ellis Island is an experience both for you who search for your relatives and for you who are visiting New York.



One whole day at Ellis Island
If you have the possibility, take a trip to Ellis Island. The island is very interesting and it will take time to visit the whole museum.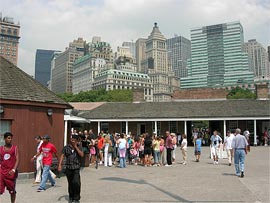 First time we were in New York 1993 we didn´t know what Ellis Island represented until we went off at the island after our trip to the Statue of Liberty.

The boat trip is included in the tour to the Statue of Liberty. Next time we visited New York we went back and just passed the Statue of Liberty.

The boat trip to Ellis Island depart from Battery Park

Ellis Island is located in the harbour of New York close by the Statue of Liberty. The boat tickets to these remarkable places can be bought in Battery Park (for the time beeing 2006). The tickets are sold inside Castle Clinton. You only pay for the boat trip and after that all is included in the price.

Before you enter the boat all passangers will go through safety control, similar to the one you are doing at the airports.
More facts about Ellis Island 2006:
| | |
| --- | --- |
| Opening hours: | Opened all year around, from 9.15 - 17.00. Increased hours in the Summertime. Closed Dec 25. |
| Entry fee: | No cost (included in the boattrip), donation is willingly accepted. |
| Guide: | Possibility to take part in guided tours or you can rent earphones and listen to the stories about Ellis Island as you go through the museum. Languages: English, Italian, Spanish, Japanase, German and French. |
| Food: | Ellis Island have their own cafe with food and drinks etc. |
| Souverniers: | Shop with books, cards, video/DVD, soverniers etc. |
| Medical Service: | Contact the personnel at Ellis Island if you need any assistance. |
Source/Pictures: The Statue of Liberty-Ellis Island Foundation
Ellis Island Immigration Museum

The museum is located in the Main building. Here you can walk around inside the buildning and view and read about the islands history and the story about all the immigrants who passed through. The exhibition are showing exactly how it was when the immigrants came to the island and what happened. Both stories from immigrants and people working here at the time is presented with pictures, clothes, bags, documentation etc.
The American Immigrant Wall of Honor

Outside the Main buildning you will find the "Wall of Honor" - it is a long wall with carved names of over 600.000 persons. This is a way to pay tribute to all immigrants and their surviving relatives. It is placed with a beautiful view of the Statue of Liberty and the Manhattan skyline.