Useful documents
Here we will gather useful documents that can help you in your genealogy work. The documents can be downloaded as pdf - to do this you will have to have the program Acrobat Reader installed on your computer.

Get Acrobat Reader for FREE here »

When you have clicked on the document you want, it will be shown in your webbrowser as an pdf. To save it on your computer, choose: Archive, Save as.... and place it in a folder on your computer and or choose to Print it directly from you webbrowser and after that fill in the document by hand.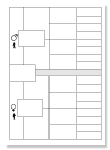 Ancestor board (Antavla)


To gather your found ancestors on a board (antavla), will make you have a foreseeable picture of all persons. It will become as a small family tree. The board contains five generations per sheet.

Fill in the information like this:
- start with you own name* in the square in the middle to the left.
- above your name you fill in your fathers name
- below your name you fill in your mothers name
- both above and below your father/mothers name, you have one square to fill in their parents (your grandfather and grandmother)
- after this you continue with the rest of your generations
- when you have filled one board (antavla) make a new one per last generation and continue back in time. The board contains 31 persons.


* A tip: also add more specific information where you have the room, as for example: date of birth, place of birth, parish etc.

Download the Ancestor board (antavla) »