Databases in Sweden and the US
Here we will present different kinds of databases that you will find on the internet.
Internet is a good help in your research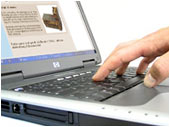 If you have access to a computer and internet you can find a whole lot of interesting information "on-line". If you do not have a computer you can often find computers at the local libraries and at "landsarkiven" in Sweden. This might be the case also in other countries, you can always call the library and check.

Some databases you will have to pay for to search for information but some are also free of charge.


Search in Swedish church records:

Genline
Instead of searching on microfilms in your local Provincial Archives (Landsarkiv) you can use Genline to view fotographed church records as for example: birth, married, dead and Household examination rolls.

You have access to different subscription at Genline.

Genline has become Ancestry.com.

More information: Ancestry.c0m

SVAR - The National Archives
Here you also have access to church records for all of Sweden. You also find 1890 census, factory stories and convicts etc.

You have access to different subscription at SVAR.

More information: SVAR Digitala Forskarsalen

Swedish Census 1890
A Census (people count)is like a phonebook of the population in Sweden. But here you will find so much more: Here is the people gathered in their hometown, with families together with their parents and possible maids, with information of names, birth and parish, occupation, marrige status and more. When you have found your person in the Census you can easily get on with your research in the local church records.

The University of Umea have presented the Census of 1890 on the Internet, for the following counties: Vasterbotten, Norrbotten, Jamtland, Vasternorrland and Varmland.

Search in the Census of 1890 »

The Central Soldiers Register
You that bump in to soldiers in your research can find useful information on this website. You can look for Swedish soldiers by name and get information about which Regiment and Company he attended.

FREE of charge!

Search in The Central Soldiers Register »

Find the grave (Stockholm)
Search among approx 185 000 different cemeteries and approx 500 000 graves at Stockholms 11 different cemeteries.

FREE of charge!

More information: hittagraven.stockholm.se

Cemeteries in Norway
Search for graves at DIS-Norge. The registration of graves in Norway makes it´s easier for a Genealogist to find a norwegian grave and find out a persons year of birth and death. You can search for a name and also by county. Over 1 milj. graves are registered in the database, try it out if you have any relatives that have been in Norway.

FREE of charge!

More information: www.disnorge.no/gravminner (click on - Choose Cemetery)

Castlegarden.org (1830-1892)
Here you search for emigrants who left for New York between 1830-1892. Those who arrived between these years arrived to the immigration office at Castle Garden (today Castle Clinton National Monument) in Battery Park. You search on the name, the database contains approx 10 million immigrants.

FREE of charge!

More information: www.castlegarden.org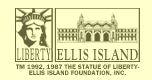 Ellisisland.org (1892-1924)
The best online-database of emigrants who passed Ellis Island between the years 1892-1924 on their way to New York. You search on the name, the database contains approx more than 22 millions immigrants.

FREE of charge - you can also buy other services if you want. You have to have an account to be able to enter and read the ship records. Of course this is also free of charge.

More information: www.ellisisland.org

More information and history about Ellis Island you will find here »
Search in American records:
Ancestry.com
A fantastic database where you search for your relativies in archives in the US. If you know that someone in your family have emigrated to the US, you can here search on a name and you will get an answer in which archives this name is present. It can for example be the Census of year 1900, 1910, 1920 or 1930, it can also be ship records of immigrants from the harbour in New York, Boston and Philiadelphia, it can be soldiers in the first World War and deceased (Social Security Death Index) etc.

The records contains more than 3.5 millards names.

You can choose from month- or yearly subscription. You can also try the service for two weeks, free of charge. (Note! If you do not want to continue after two weeks, don´t forget to end your subscription.)

Start Free Trial at Ancestry.com »


1940s US Census
An amazing help in your search for Swedes who emigrated to the United States. All residents were counted and written up with names in census at different years' intervals. Here you can find very interesting information and also relatives you lost.
Social Security Death Index (SSDI)
If you know someone in your family that emigrated to the United States you can here search for dead people. During the 1930s the U.S. began issuing Social Security numbers (similar to the Swedish personal identity nummer). People who died from about 1962 are posted in a database you can search in. But if the death was not reported to the so-called Social Security Administration, they unfortunately do not show up here.

If you find a deceased relative, you will get this information:
Birth date, death date, last residence and SSN.

This may help you further in your research.

More information: www.genealogybank.com/gbnk/ssdi/

Peoplefinder
Here your search after now living persons in the US. Maybe you know of a person living in the USA during the 60s and 70s, but you have now lost contact. Search at Peoplefinder and see if he or she still lives there or anywere else in USA.

More information: www.peoplefinder.com

***** More useful databases you´ll find here - Emigration/databases ****