Festivity with The Emigrant House Foundation in Goteborg, Sweden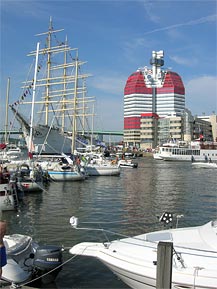 June 17-18, 2006

The festive occasion is over, we had wonderful weather, what a luck! Can it be better when there were a lot of activities in Goteborg this weekend: Volvo Ocean Race final at Lindholmen, opening of the the new tunnel "Gota tunneln" (after six years of buildning) and activities around the Custom buildning (Tullhuset) in the harbour.

Due to that we are geneaology researchers we will of course put our focus on what happened around "Tullhuset" at the dock, this weekend.

First some history about the place

"Tullhuset" was build during the years 1865-1866 by Goteborg city. In April 1867 the house was taken in use by the custom. In the late part of 1800 the area around "Tullhuset" was the centre for the big emigration to the US. The Customs stopped their work in the house 1973. Since then the house have operated as a buildning for education and commerce. In 2002 Goteborgs first Casino opened "Casino Cosmopol" on the first floor and 2004 "The Emigrant House" was opened on the second floor, a place to meet and to do emigrant research.

The weekend activities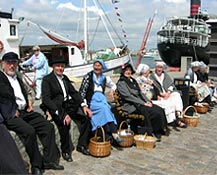 This day the "Friends Association Gothenburg-Emigrant" had organized activities at the dock, in cooperation with Casino Cosmopol. A theatre group had dressed themselves up and put on an act to be persons from late 1800. One prisoner wandered a long the dock and the Police were him close on his heels. Several immigrants waited along the dock do leave for "America". You could also listen to different chorus who sang and told stories about the emigration, among others "Spårvägens male choir " appeared etc.

The Custom requested - "Don´t forget to get a departure stamp before you leave for America".


The emigrant wave from Goteborg

What not many people knew when they passed on the dock, is that from this dock Swedish emigrants departed to, in first place, the US. Approx 1 million emigrants emigrated from Goteborg and the total from Sweden are approx 1.3 million. Other countries that people wanted to emigrate to was also South America, Africa and New Zealand.

Most people emigrated to the US and this day was an reminder of bygone times and also to spread information about what you can do in "Tullhuset" at Goteborg dock.

On the second floor you can visit The Emigrant House. They have different kind of exhibitions and you also have access to computers, where you can search for your relativies.

Two exhibitions during this Summer:

Letters from America: An exhibition based on letters from Swedish emigrants that was sent to relativies and friends in Sweden.

The new "American letters": Pictures and texts that illustrate our nowadays "travellers to America", i.e. those people who today arrive to our country. This exhibition is based on letters from Lebanon and Iraq, from municipality in Jönköping and also earlier published in the "New letters from America".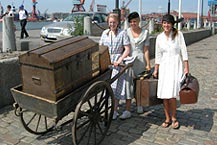 Some found their relativies in the US!

These days went really good and it came a whole lot of visitors to The Emigrant House and some actually found some of their relativies and they got some more information about which ship that took them to the US etc. Some of the archives you can search in here are: Ancestry, Genline, Arkion, CD-Emigrants and also CENSUS 1890 among others.

Many people from Goteborg even didn´t know so much about the Emigrant House, they became positive surprised about the organisation and they should return and try to search for their roots.


Visit Goteborg this Summer

For you that have plans to visit Goteborg this Summer, take a ride in the new tunnel and also bring documents of your relativies that left for America/Sweden sometime between the big epoch 1830-1935 and visit The Emigrant House. Who knows, next time you may spend your holiday with your relativies that you have found in the US or Sweden.


More pictures from the weekend - will be opened in a new window.

Have a great Summer!